Are you suffering from drug addiction? The BRIGHTSIDE substance abuse center in Northbrook, IL, is here to help!
We help patients suffering from various substance use disorders, such as opioid use disorder and addiction to pain medications and heroin. We also help patients with Methadone conversion treatments.
At BRIGHTSIDE, we don't just treat the addiction but the underlying causes of the addiction as well. Our substance abuse treatment and recovery programs offer our patients a new lease on life with a focus on medication-assisted treatment and mental health counseling.
Our Northbrook clinic is located South of I-94 near the corner of Skokie Blvd. and Henrici Dr. We're located between Highgate Builders and Berkson & Sons Real Estate, up the road from the BMO Harris Bank.
Visit Our Drug Rehabilitation Center on Skokie Blvd.
Our experienced drug rehabilitation doctors and substance abuse counselors are highly experienced and trained in the latest treatment methods to help patients overcome their substance use disorder and avoid relapses. We use a combination of SMART Recovery community-based support groups, personalized psychiatric treatment and counseling, and medication-assisted substance use treatments like Suboxone, Vivitrol, Sublocade, and Brixadi to treat the whole patient.
If you're struggling with addiction, We're your ultimate support crew in Northbrook, Illinois. We know that no two addiction issues are the same. One-size-fits-all treatments don't work. That's why we're dedicated to working with you to create a unique treatment plan that meets your needs.
Please schedule a consultation with our substance abuse specialists today, and let's overcome your challenges together.
Emergency Opioid Use Disorder Treatment
If you are concerned about the potential overdose of a loved one, contact our Northbrook, IL, Suboxone doctors. We provide 24-hour access to life-saving medication when you need it.
We understand that sometimes treatment can't wait. When someone is overdosing on opiates, you need to act fast before there's permanent brain damage or loss of life. Our Skokie Blvd. substance abuse center offers a free Naloxone program to get you a prescription and train you how to use it. That way, you're prepared to save your loved one's life. If you have friends or family members you know who are addicted to opioids, get Naloxone today.
Substance Abuse Treatment Services in Northbrook, IL
BRIGHTSIDE Clinic in Northbrook offers a range of drug rehabilitation programs designed to help you overcome your addiction, such as:
At the BRIGHTSIDE substance abuse center in Northbrook, we are committed to providing our patients with the compassion and respect they deserve. We understand this is one of the hardest things you will ever do, so our friendly and professional staff offers support with a smile.
Once you arrive at our clinic, we ensure you are treated as soon as possible in our "soft treatment rooms." These rooms offer comfort and warmth while you get the help you deserve. Your therapists will consult with you while you relax, and we work hard ensuring you receive your medication as soon as possible.
We invite you to speak to one of our friendly team members about your situation today by calling us at (224) 205-7866 or by emailing us at info@brightsideclinic.com.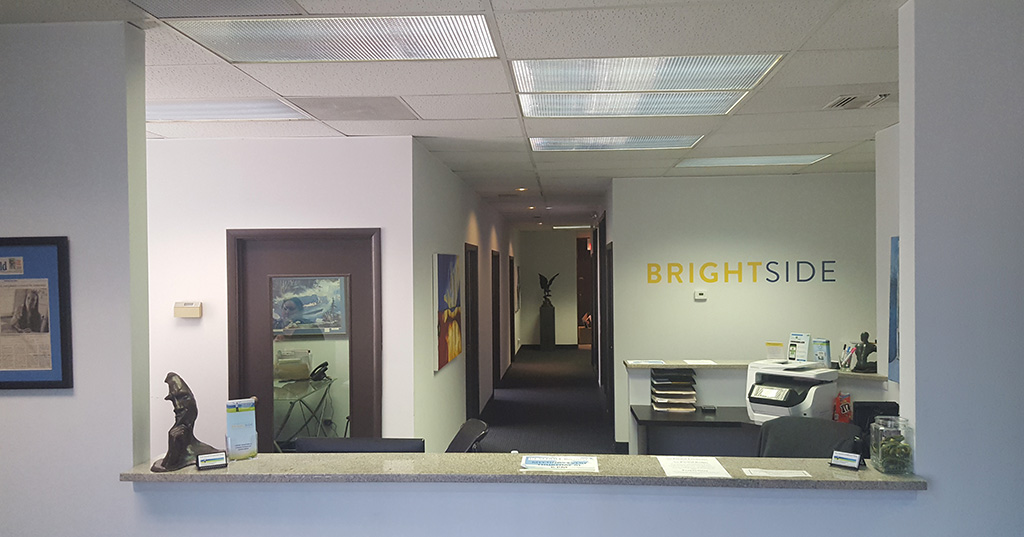 Suboxone Treatment in Northbrook, IL
Quickly get the treatment you need from the expert suboxone doctors at our Northbrook clinic and take the first step towards a healthier, addiction-free life. Suboxone or buprenorphine helps patients eliminate withdrawal symptoms and reduces cravings. Our doctors will develop a custom treatment plan based on your needs to eliminate withdrawal symptoms and manage your physical dependence until you have reached remission and no longer require suboxone treatments.
Fentanyl Addiction Treatment
If you're fighting against Fentanyl dependency, let the experts at BRIGHTSIDE Northbrook help. Our medication-assisted Fentanyl treatment programs help stabilize you on a dose that keeps withdrawal symptoms at bay and controls cravings while we treat the underlying causes of the addiction.
Heroin Addiction Treatment
Heroin is a highly addictive drug, and is the second leading cause of overdose deaths in the Chicago area behind Fentanyl. At BRIGHTSIDE clinic in Northbrook, we're here to help.
We understand that it's difficult to overcome a heroin addiction. At our Northbrook clinic, BRIGHTSIDE offers products like  Suboxone®, Zubsolv®, Bunavail®, Sublocade®, and Subutex® to eliminates the cravings and withdrawals associated with heroin cessation.
Sublocade Treatment for Opiate Addiction
If you or a loved one has an opiate addiction, Sublocade treatments can help. Sublocade is a month-long brand-name injectable medicine with the active ingredient buprenorphine. Sublocade impacts the same brain parts as opiates to reduce cravings and relieve withdrawal symptoms. Contact our Northbrook clinic today to discuss whether Sublocade treatments suit you.
BRIXADI Treatment
BRIGHTSIDE clinic in Northbrook now offers BRIXADI, a newly FDA-approved drug for treating moderate to severe opioid use disorder in adults.
With a complete treatment plan that includes counseling and support, Brixadi effectively helps reduce cravings and withdrawals while supporting long-term freedom from opioids.
Administered weekly or monthly, Brixadi is a convenient option to keep your recovery on track.
Convenient Chicago-Area Substance Abuse Centers
Are you looking for something a little bit closer to home? BRIGHTSIDE operates seven substance abuse clinics across the greater Chicagoland area. Use the map below to find drug rehabilitation specialists near you.
Get Treatment at Home with Telehealth Appointments
At Brightside, we know the importance of providing treatments that work with your schedule. That's why we're committed to connecting you with a local provider wherever you are. Our telehealth services give you access to Brightside professionals in the comfort of your own home and service the entire state of Illinois!
Rather than waiting days for an appointment, schedule a telehealth visit and see a doctor in minutes. For those with a busy schedule or who don't want to travel a long way for treatment, this is the perfect option.
Schedule a Consultation at Our Northbrook, Illinois Location
One of the most challenging steps to take on the journey to recovery from substance abuse is the first one. We know just how much strength it takes to want to get help. When you're ready, BRIGHTSIDE Clinic is here for you.
Contact us today to schedule your consultation at our Northbrook clinic on Skokie Blvd. A brighter tomorrow free of the pain of addiction is just a call or click away.