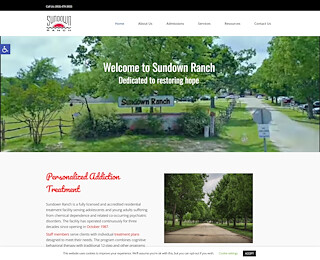 If you have an addiction, you know how hard it is to try to stop taking the substance. Your body and mind become dependent, and you need help to overcome the situation. You can get the guidance and support you need at our addiction treatment center in East Texas. We provide individualized treatment at our beautiful ranch.
What Types of Treatment Do You Provide?
At Sundown Ranch, we provide comprehensive treatment for chemical dependency. We combine the Alcoholics Anonymous 12-step program with cognitive behavioral therapy to help our clients overcome addiction to drugs or alcohol. Some of the types of treatment we provide at our addiction treatment center in East Texas include master treatment planning, counseling, medical services, nutritional services, academic services, recreational services, and more. We create a treatment plan that is specifically for your care. We provide treatment for co-occurring psychiatric disorders.  
Get the Help You Need To Overcome Addiction
At Sundown Ranch, we have an effective plan to overcome your addiction. Our addiction treatment center in East Texas provides care specifically for adolescents and young adults ages 12 through 24. We opened our facility in 1987 and continue to provide individualized treatment using various combinations of programs. We have about 100 staff members and serve about 50 clients in our beautiful and comfortable setting. We create a treatment plan that is specifically for your care. Our team of caring professionals helps you through the process and makes it easier to go through treatment.
What is the Client Program?
Our addiction treatment center in East Texas provides a comprehensive client program that we tailor to your needs. When you enter our facility, we will examine you and review your history. We will work with you to determine your specific needs. Our skilled professional counselors will assist you through a variety of therapy that may include individual, group and family options. We give you the tools that you need to overcome your addiction. You can use these skills to keep from relapsing in the future. We want to help you become a happy and healthy young adult with a bright future.  Together, we will work to resolve your addiction and you will learn new methods of dealing with stress, anxiety, and depression.
Sundown Ranch Provides a Unique Experience
From the moment you visit our addiction treatment center in East Texas, you will feel comfortable and at ease. We have a unique and relaxing setting where we offer plenty of outdoor activities along with your therapy treatments. We offer a peaceful place where you can concentrate on your recovery. We are unlike hospital or institutional settings and our young people are happy to participate in the many activities that we make available while you are here. We assist you and your family in the process and provide you with a plan you can follow after you leave our ranch. We want to see you succeed and are here to help you 24/7 throughout your stay. Contact us today to learn more about our programs. 
Addiction Treatment Center East Texas
Sundownranchinc.com
9034793933
3120 Co Rd 4413 2318
Canton
TX
75103
View Larger Map
We welcome your comments!